Flowers and decorations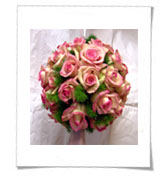 Flowers provide the appropriate setting of joy and happiness for the wedding day. They follow the bride everywhere: they decorate the home, the car, the church, the reception venue and obviously the bouquet. The traditional custom of using white flowers is gradually disappearing, allowing a greater use of colour and creativity.
It is sufficient to place some flowers in special places of the house in order to make the environment joyful and create a festive atmosphere for the ritual of the bride's preparation.
Obviously the most important flower decoration is the one in church. It's best to contact your florist well in advance since he can give you the right advice and express in the best possible your desires and your taste. Since Sorrento is famous for it's citrus fruits production, flower decorations that recall this traditional and typical production are usually a good choice. It's very important, however; that the flower decorations are in line with the architectural style of the church and with the wedding dress; season flowers which are in line with the surroundings are also preferable.

Bouquet

It's best that the bouquet is produced by the same florist who takes care of the rest of the decorations. Traditionally the groom must buy it, but since he cannot see the bride's dress before the wedding, he can take advice or have the bride choose it.
According to the custom, he must have it delivered at the brides house the morning of the wedding or he can give it to her directly when entering the church, in this case she must take one flower and place it in his buttonhole.
The shape of the bouquet must be decided according to the wedding dress but also in consideration of the bride's physique. A round shape bouquet is good for all heights and figures, while a larger one with longer flowers is best for a tall and slim figure.
When ending the wedding reception the bride traditionally throws her bouquet to all the single women among the gusts: the one who catches it is said to marry within the year.
Sometimes the bouquet can be used differently, by choosing to donate a flower to each female friend or by bringing it in church as an offer to the virgin mary.

Flowers for the civil wedding in the city hall

In this case the flower decoration must be quite sober, few plants in front and some taller ones on the side of the table where the signing is done, are all that is necessary Little flower bundles can be additionally placed on the chairs for the guests .