Wedding keepsakes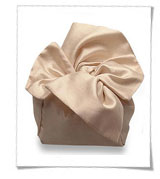 The wedding keepsake is a way of thanking those who participate to the ceremony and reception with a little gift. There are many models and one can choose among different stiles and price ranges, but ultimately the most important thing is to choose an object of taste.

Main types of wedding keepsake:

- The small bag, in which there is a note with the names of the bride and groom and the wedding date, and usually five traditional sugar-coated almond confetti that represent happiness, health, wealth, fertility, and long life. This keepsake is a simple one that is usually given to those friends and colleagues who are not invited to the ceremony and to all those who have sent messages and cards of congratulations;


- The simple wedding keepsake is donated to all those who have participated to the reception. It's usually the same for everyone and is given to each family at the end of the reception when people are ready to leave;


- Special wedding keepsakes, are those given to the wedding witnesses. These are usually valuable gifts that are donated officially during the ceremony and this particular moment is followed by pictures and applauses.
In addition to the more traditional silver objects or small porcelains, one can positively impress the guests by donating them something that is commonly used such as a picture album, a single coffee set, and so on.